Troubleshooting FastAPI App Traces with SigNoz Instrumentation
TLDR Anunaya is having trouble getting traces from their FastAPI app using SigNoz. Srikanth suggested resolving a version conflict.
Powered by Struct AI
Aug 24, 2023 (3 months ago)
Anunaya

hi, i'm trying to get traces from my fastapi app with signoz, and ran the instrumentation but ran into these errors, and not sure how to proceed. any advice?
have followed the steps from here -
https://signoz.io/blog/opentelemetry-fastapi/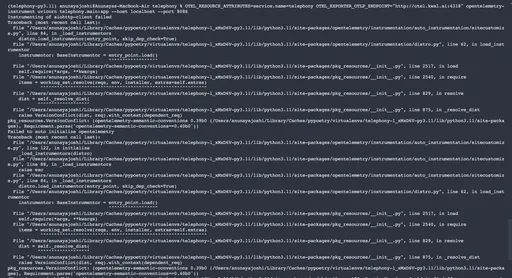 Srikanth

It says version conflict. Please get that resolved.

SigNoz Community
Built with ClickHouse as datastore, SigNoz is an open-source APM to help you find issues in your deployed applications & solve them quickly | Knowledge Base powered by Struct.AI
Indexed 1023 threads (61% resolved)
Join Our Community