Trouble with SigNoz Cluster and ClickHouse
TLDR Jatin is having issues with SigNoz cluster. Hoang advises using an external ClickHouse for ease of control, sharing their own successful experience.
Powered by Struct AI
Aug 07, 2023 (4 months ago)
Jatin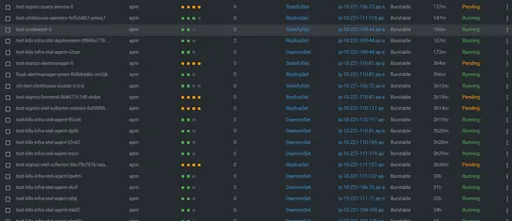 Pranay

How much resources have you allocated to SigNoz cluster - in terms of RAM and CPU?
Aug 08, 2023 (4 months ago)
Jatin

We didn't specified any resources while installing signoz we have enough resources to run signoz in our cluster
Aug 09, 2023 (4 months ago)
Hoang

Jatin

Hi Hoang i have checked the issue its due to init condition failure frontend and alertmanager are dependent on queryservice and collector and query service are dependent on clickhouse
but i am unable to figure whats wrong with clickhouse as its working perfectly fine
Hoang

Hi Jatin, for troubleshooting, I think we need more logs. But my advice is to use an external ClickHouse. You can control it easier. In my production, I'm using the ClickHouse operator and SigNoz helm chart with external ClickHouse and it's working perfectly.

SigNoz Community
Built with ClickHouse as datastore, SigNoz is an open-source APM to help you find issues in your deployed applications & solve them quickly | Knowledge Base powered by Struct.AI
Indexed 1023 threads (61% resolved)
Join Our Community