SigNoz Not Capturing span.kind Attribute in UI
TLDR Sanjiv noticed span.kind attribute not captured in SigNoz UI. vishal-signoz and Pranay confirmed the issue and asked Sanjiv to create a GitHub issue.
Powered by Struct AI
Mar 02, 2023 (9 months ago)
Sanjiv

Signoz is not capturing the span.kind attribute. I checked the same Opentelemetry trace in New Relic and see it there. Can this be added?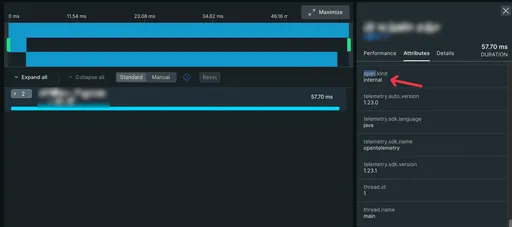 vishal-signoz

SigNoz does capture span.kind attribute but it's not being shown in UI.
Can you please create an issue for this?
cc: Pranay
Mar 03, 2023 (9 months ago)
Pranay

Sanjiv


SigNoz Community
Built with ClickHouse as datastore, SigNoz is an open-source APM to help you find issues in your deployed applications & solve them quickly | Knowledge Base powered by Struct.AI
Indexed 1023 threads (61% resolved)
Join Our Community