SigNoz Frontend Container_ID Leak Issue
TLDR Cheslav reported an issue with the SigNoz frontend leaking container_ids. nitya-signoz suggested ways to obtain logs and check the issue.
Powered by Struct AI
Apr 08, 2023 (8 months ago)
Cheslav

SigNoz frontend is leaking...
container_id is multiplied more and more....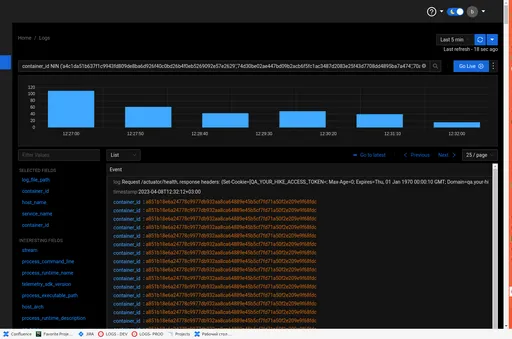 Pranay

nitya-signoz Do you have any insights on what could be the issue here?
nitya-signoz

Does it happen when you search using the filters/query or it appears like this regardless?
Can you also share the API request and response of /logs endpoint by opening the network tab?
Cheslav

now I don't have logs.
I just was trying to filter all log entries of SigNoz out by querying 'container_id NIN ...' when it started to leak. I were putting every container_id into list on and on. First the field container_id was duplicated in the filter and into every log entry. Then it started to leak.
Apr 10, 2023 (8 months ago)
nitya-signoz

you can try selecting a larger time-range on the top right to get older logs.

SigNoz Community
Built with ClickHouse as datastore, SigNoz is an open-source APM to help you find issues in your deployed applications & solve them quickly | Knowledge Base powered by Struct.AI
Indexed 1023 threads (61% resolved)
Join Our Community