Resolving Google Chat Webhook Error
TLDR Jatin faced an error with Google Chat webhook. Srikanth suggested using additional processes like alertmanager-gchat-integration or calert to transform the payload.
Powered by Struct AI
Apr 11, 2023 (8 months ago)
Jatin

Hi everyone, we get this error while using webhook url for google chat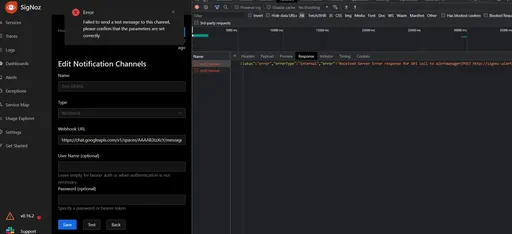 Srikanth

Google Chat requires JSON data of specific schema; the regular alert manager webhook payload doesn't match it. You need to run an additional process, such as
alertmanager-gchat-integration
or
calert
, to transform the webhook payload to Google Chat. Or send it to something like zapier where you transform the alertmanager payload and then forward it to Google Chat.
Apr 12, 2023 (8 months ago)
Jatin


SigNoz Community
Built with ClickHouse as datastore, SigNoz is an open-source APM to help you find issues in your deployed applications & solve them quickly | Knowledge Base powered by Struct.AI
Indexed 1023 threads (61% resolved)
Join Our Community