Resetting Admin Account Results in Error
TLDR surya encountered an error while resetting the admin account. Dahe and Prashant gave advice on restarting services and deleting the sqlite3 db file, but cautioned against deleting it due to potential data loss.
Powered by Struct AI
Jul 23, 2023 (4 months ago)
surya

I used this
steps
to reset my admin account but i am getting error now, please anyone help me.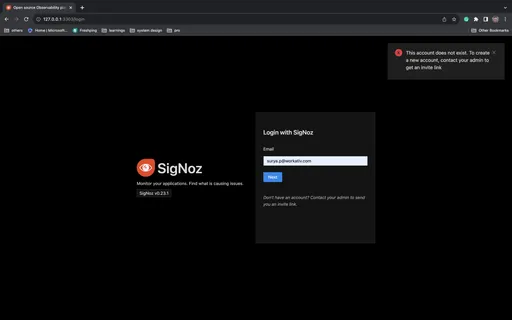 Jul 24, 2023 (4 months ago)
Dahe

I suggest trying to delete sqlite3 db (/var/lib/signoz/signoz.db), and restart signoz-query-service. Next, the data is reinitialized to prepare for the next run.
Prashant

You will need to restart the query service container.
07:12
Deleting sqlite db file is not recommended since it also deletes alerts, dashboards and other metadata.

SigNoz Community
Built with ClickHouse as datastore, SigNoz is an open-source APM to help you find issues in your deployed applications & solve them quickly | Knowledge Base powered by Struct.AI
Indexed 1023 threads (61% resolved)
Join Our Community