Limitations of SigNoz Community Edition
TLDR Pablo and Paulo were confused about the limitations of a community edition of SigNoz. Pranay clarified that it allows five logs/traces for alerts and panels.
Powered by Struct AI
Aug 30, 2023 (3 months ago)
Pablo

Hello! we're testing signoz self hosted on our plataforms, and experiencing errors like this below on picture, when tried to create a dashboard trace based through the query builder, but we cant find any information about these limitations on comunnity editions, can someone explain us these limitations? Today were developing a POC to replace our apm service to signoz and the trace based view is the most important thing for us.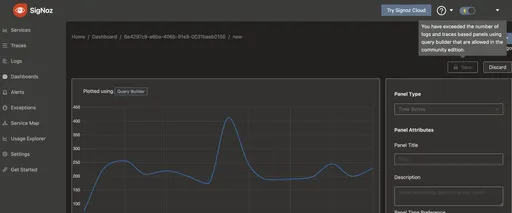 Paulo

how many dashboards for traces we can create in free edition?
Sep 02, 2023 (3 months ago)
Pranay

Currently, the community edition has the following limits

• 5 logs/traces based alerts
• 5 logs/traces based panels in dashboards

SigNoz Community
Built with ClickHouse as datastore, SigNoz is an open-source APM to help you find issues in your deployed applications & solve them quickly | Knowledge Base powered by Struct.AI
Indexed 1023 threads (61% resolved)
Join Our Community