Issue with Alert Generation in Signoz
TLDR Jun is having difficulties with alerts in Signoz which are not firing as expected. Srikanth advises that the alert should trigger, but the issue remains unresolved.
Powered by Struct AI
Sep 05, 2023 (3 months ago)
Jun

Hi support, I would like to check the behaviour of alerts in Signoz: for the following query result, an alert is not generated event after the 5 minute threshold. Is this an expected behaviour?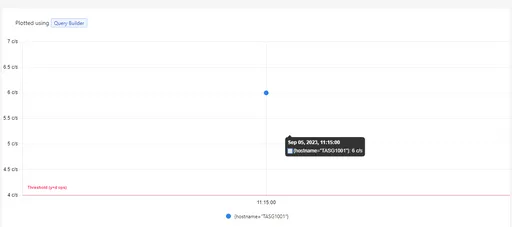 03:27
How would I go about creating an alert that will be triggered when it sees this kind of pattern?
Srikanth

It should trigger an alert.
Jun

From testing it seems that if it is just a point in the graph, the alert doesn't fire
But when it is a line, it will fire
Srikanth

That's doesn't matter. If it just a point it means there is only one metric point reported during the 5 minute interval.
Jun

This is an example of the metric, I tried to trigger an alert via Test Notification as well. Evidently, it does not recognize the point as an alert
I didn't receive any alert notifications as well after 5 mins (alert channels are tested to be working as well)


SigNoz Community
Built with ClickHouse as datastore, SigNoz is an open-source APM to help you find issues in your deployed applications & solve them quickly | Knowledge Base powered by Struct.AI
Indexed 1023 threads (61% resolved)
Join Our Community