Issue in Creating New Alert Channel in Signoz
TLDR Bhavesh faced issues in creating a new alert channel in self-hosted signoz. Srikanth clarified that admin permissions were required.
Powered by Struct AI
Oct 16, 2023 (1 month ago)
Bhavesh

Need Help:
I have self-hosted signoz and in setting>alert-channels there is no option to create "New Alert Channel"
Is there something i missed while configuration?
context: i've used docker-compose method to install this
here is SS
👇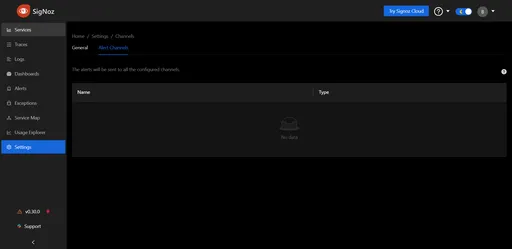 Oct 19, 2023 (1 month ago)
Srikanth

Do you have enough permission? Only Admin can create channels
Bhavesh


SigNoz Community
Built with ClickHouse as datastore, SigNoz is an open-source APM to help you find issues in your deployed applications & solve them quickly | Knowledge Base powered by Struct.AI
Indexed 1023 threads (61% resolved)
Join Our Community