Issue Adding Nodejs App to Signoz
TLDR Federico is experiencing trouble adding a nodejs app to Signoz even after following the specified guide and sharing the encountered NotFoundError. Srikanth has inquired about the issue but no solution has been given yet.
Powered by Struct AI
Oct 17, 2023 (1 month ago)
Federico

Hi everyone.! I'm using signoz and I cant add nodejs app… -r ./tracing.js doesn't work.! :thinking_face:
Oct 19, 2023 (1 month ago)
Srikanth

Why couldn't you add it? What was the issue?
Federico

I don't know… I've just added my tracing.js, run it as node -r ./tracing.js ./myapp.js
03:07
my app work well, but I can't see the my app in the main dashboard.!
03:07
my app is called node-app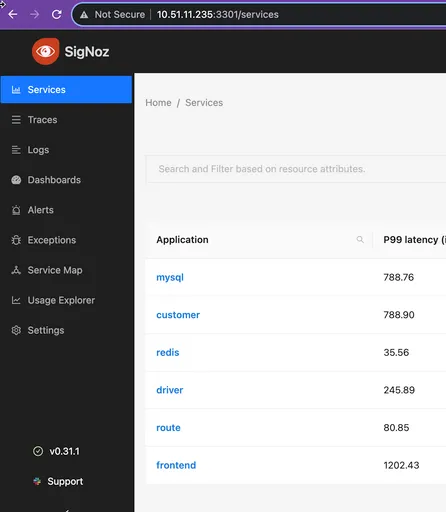 03:18
NotFoundError: Not Found
    at /opt/liza/backend_app/app.js:291:8
    at /opt/liza/backend_app/node_modules/@opentelemetry/instrumentation-express/build/src/instrumentation.js:200:41
    at Layer.handle [as handle_request] (/opt/liza/backend_app/node_modules/express/lib/router/layer.js:95:5)
    at trim_prefix (/opt/liza/backend_app/node_modules/express/lib/router/index.js:317:13)
    at /opt/liza/backend_app/node_modules/express/lib/router/index.js:284:7
    at Function.process_params (/opt/liza/backend_app/node_modules/express/lib/router/index.js:335:12)
    at next (/opt/liza/backend_app/node_modules/express/lib/router/index.js:275:10)
    at arguments.(anonymous function) (/opt/liza/backend_app/node_modules/@opentelemetry/instrumentation-express/build/src/instrumentation.js:197:41)
    at multipartBodyParser (/opt/liza/backend_app/node_modules/busboy-body-parser/index.js:82:13)
    at /opt/liza/backend_app/node_modules/@opentelemetry/instrumentation-express/build/src/instrumentation.js:200:41
    at Layer.handle [as handle_request] (/opt/liza/backend_app/node_modules/express/lib/router/layer.js:95:5)
    at trim_prefix (/opt/liza/backend_app/node_modules/express/lib/router/index.js:317:13)
    at /opt/liza/backend_app/node_modules/express/lib/router/index.js:284:7
    at Function.process_params (/opt/liza/backend_app/node_modules/express/lib/router/index.js:335:12)
    at next (/opt/liza/backend_app/node_modules/express/lib/router/index.js:275:10)
    at arguments.(anonymous function) (/opt/liza/backend_app/node_modules/@opentelemetry/instrumentation-express/build/src/instrumentation.js:197:41)
    at /opt/liza/backend_app/node_modules/express/lib/router/index.js:635:15
    at next (/opt/liza/backend_app/node_modules/express/lib/router/index.js:260:14)
    at arguments.(anonymous function) (/opt/liza/backend_app/node_modules/@opentelemetry/instrumentation-express/build/src/instrumentation.js:197:41)
    at compression (/opt/liza/backend_app/node_modules/compression/index.js:220:5)
    at /opt/liza/backend_app/node_modules/@opentelemetry/instrumentation-express/build/src/instrumentation.js:200:41
    at Layer.handle [as handle_request] (/opt/liza/backend_app/node_modules/express/lib/router/layer.js:95:5)