Disabling "?" in SQL Criteria for App
TLDR Sanjiv asked how to disable "?" in SQL criteria. vishal-signoz suggested checking the instrumentation library. Ankit provided a solution using OTEL_INSTRUMENTATION_COMMON_DB_STATEMENT_SANITIZER_ENABLED.
Powered by Struct AI
Mar 02, 2023 (9 months ago)
Sanjiv

The demo app has the full SQL however in my app the values in the sql criteria are replaced by "?". Is there a way to disable the ? and have the actual value?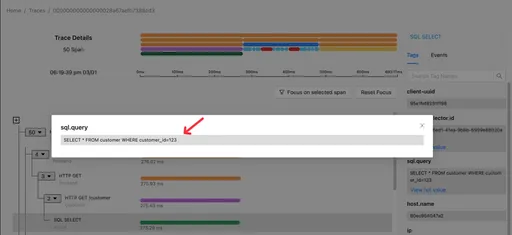 Mar 03, 2023 (9 months ago)
vishal-signoz

Depends on how you have instrumented, if you have auto instrumented then check on the instrumentation library.
If you are manually instrumenting then set sql.query attribute in the span.
Ankit


SigNoz Community
Built with ClickHouse as datastore, SigNoz is an open-source APM to help you find issues in your deployed applications & solve them quickly | Knowledge Base powered by Struct.AI
Indexed 1023 threads (61% resolved)
Join Our Community