Debugging and Optimizing Slow Signoz Dashboard
TLDR Div reported slow Signoz dashboard and errors. Srikanth suggested creating a materialized column and adding filters to speed up queries. vishal-signoz confirmed the suggested approach.
Powered by Struct AI
May 10, 2023 (7 months ago)
Div

Hi Team, recently Signoz started to be much slower in our case to query the data for last 6 hours and sometimes the dashboard failing like with this error

• is there any documentation to debug slow issues or optimise the signoz dashboard ?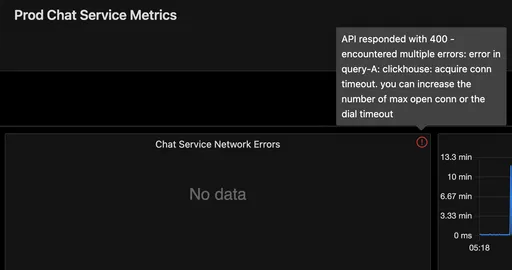 03:20
we are in the latest version 0.18.3
Srikanth

What are the resources (CPU and Memory) given to ClickHouse?
Div


03:34
I have noticed when doing any search on signoz the clickhouse container CPU usage is going beyond 200%
03:34
using docker stats | grep container_id
Srikanth

How many CPU cores are available?
Div

with nproc it shows 2, and no specific cpu core setting is done on the docker container, so it has access to the 2 CPU cores from host
Ankit

Srikanth can you please get on a call with Div and check the query, the amount of data fetched, the processing speed of clickhouse, etc. We can discuss more based on the data. You if you have a set of commands, that can be run and will collect these data would also be good
04:10
2CPUs are less... how much data are you handling?
Div

In a 1 day this is traces count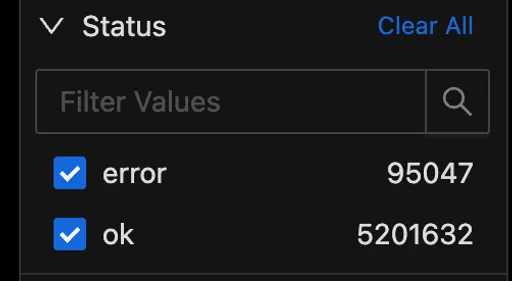 Srikanth

2 CPU == 2 concurrent queries. What does the chart you mentioned above query?
Div

the chart above if you mean the clickhouse one, is the stats I got from docker stats | grep container_id and while filtering traces for 1 Day
Srikanth

No, I meant the original chat service chart
Div

ah ok, it has 4 panels
1- network latency
2 - GC metrics
3- error rates
4- memory usage
Srikanth

You gc queries the stringTagMap in traces which will get really slow and would lead to timeout for other panels since the gc query is not yet finished. Create a materialized column for it and check again.
Div

as a quick solution, increasing the CPU cores would be good enough ?
Srikanth

That might solve your issue temporarily, but I would recommend creating materialized column so you will not face the same issue.
Div

is there any doc ref I can look at on how to add this materialized column for our usecase ?

we are sending the GC events via collector tracing service to signoz.
Srikanth

I don't think we have docs for that yet. We will look into it since it might also effect the exporter. If you can exec into clickhouse -> clieckhouse-client and run the query and share the end of the output that would be helpful.
SELECT toStartOfInterval(timestamp, INTERVAL 60 SECOND) AS ts, 
avg(durationNano) as value 
from signoz_traces.distributed_signoz_index_v2 where (timestamp >= (now() - toIntervalHour(6))) 
AND stringTagMap['gc_type']='GC' group by ts order by ts
Ankit

vishal-signoz adding serviceName in the filters should speed up things, right?
09:08
vishal-signoz also, adding mapContains(stringTagMap, 'gc_type') will make the query faster?
vishal-signoz

> adding serviceName in the filters should speed up things, right?
Yes, more filters means less DB rows scanned and it will be faster
09:10
> also, adding mapContains(stringTagMap, 'gc_type') will make the query faster?
Yes if usecase is just to check if gc_type exists then this way it should be faster.
Ankit

> Yes if usecase is just to check if gc_type exists then this way it should be faster.
I meant adding mapContains along with AND stringTagMap['gc_type']='GC'
vishal-signoz

> I meant adding mapContains along with AND stringTagMap['gc_type']='GC'
Tested this on a test environment. This doesn't reduce number of rows scanned and no significant performance changes with mapContains filter