Customizing Span Colors and Separating Services in Java Application
TLDR Sanjiv asks how to change span colors and separate MSSQL service. vishal-signoz clarifies color codes and resource attributes. Srikanth suggests using multiple providers for different services.
Powered by Struct AI
Mar 02, 2023 (9 months ago)
Sanjiv

On what basis are the spans colored? My java application is autoinstrumented and mades JDBC calls. However all the spans appear blue. I'd like for the spans with attribute db.system=mssql to be colored differently. How can I do this?

vishal-signoz

No, you can not specify color codes.
Errors are in red.
Palash can you please confirm?
Sanjiv

vishal-signoz the sample app that Signoz ships has different colors for spans but here each span belongs to a separate service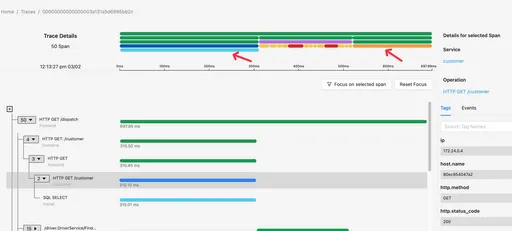 05:21
I'd like my database msssql show up as separate service similar to the redis or myqsl service in the sample app
Ankit

designing a color system might be a good idea. Sanjiv can you create an issue for this, might be helpful to others users also
vishal-signoz

Sanjiv DB are not shown as different services. The hot rod shows them in services because it sets service.name for databases. They are not really databases but a simply go programs mimicking the DB behaviour.
Sanjiv

Is there a way to programatically update the service.name of a Span? Setting an attribute "service.name" on the Span does not result it the new service name being applied
Mar 03, 2023 (9 months ago)
vishal-signoz

Sanjiv service.name is not a span level attribute, rather it is a resource attribute.
Sanjiv

do you know how I can set the resource attribute using Java API's
vishal-signoz

Resource attributes can only be added when initializing the instrumentation in a service.
So you can't change resource attribute for a individual span.
cc: Srikanth
Sanjiv

Srikanth

However, you can use multiple (tracer/meter/logger)providers within same service each with different resource attributes, then they will show up as different services in the UI.
Palash

vishal-signoz apart from the error we are assigning the colour in a round-robin fashion for different service