Creating Alerts Based on Custom Exception Messages
TLDR ma asked how to create alerts from custom exception messages. Pranay suggested using trace data but Srikanth clarified that exceptions are stored separately and suggested using a ClickHouse query instead, providing an example.
Powered by Struct AI
Nov 02, 2023 (3 weeks ago)
ma

#support
how to create new alert based on some custom message in exception? For example I want to filter by exception.type . How to write the query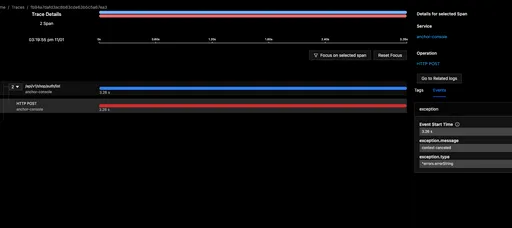 Pranay

Have you tried creating alerts based on traces, as exceptions data is available in traces

Nov 03, 2023 (3 weeks ago)
Srikanth

Pranay
that's not possible because exceptions are stored separately and can't be searched. Only tags are usable in the traces.
ma
alternative is to write ClickHouse query. You can find examples here
https://signoz.io/docs/tutorial/writing-clickhouse-queries-in-dashboard/
.
example
SELECT count() AS value, toStartOfInterval(timestamp, INTERVAL 5 MINUTE) AS interval 
FROM signoz_traces.signoz_error_index_v2 
WHERE timestamp BETWEEN {{.start_datetime}} AND {{.end_datetime}} 
AND (serviceName = 'api-service') 
AND (exceptionType = 'Not found') 
GROUP BY interval

SigNoz Community
Built with ClickHouse as datastore, SigNoz is an open-source APM to help you find issues in your deployed applications & solve them quickly | Knowledge Base powered by Struct.AI
Indexed 1023 threads (61% resolved)
Join Our Community