Configuring Health Checks and Alert Settings in Opentelemetry
TLDR KishanReddy needed help setting up health checks and alert configurations in Opentelemetry while also exporting metrics to Prometheus. Srikanth guided them on threshold configuration and provided relevant documentation.
Powered by Struct AI
Jul 04, 2023 (5 months ago)
KishanReddy

HI Team, can any help me how to configure health checks of end points/api's with webhook alert configuration by signoz/opentelemetry
Srikanth

KishanReddy

This message contains interactive elements.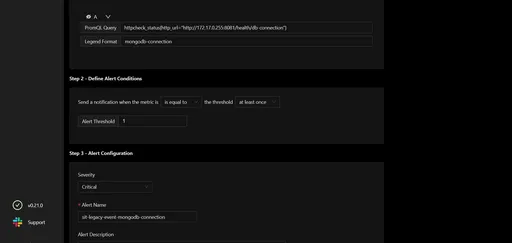 Srikanth

Look at your threshold configuration. You have set fire alert if the metric is equal to 1 at least once.
KishanReddy

but in metric alert configuration only one "at least once" option will be available with PromQL
04:17
One more help, Is it possible opentelemetry metrics from otel collector to prometheus?
Jul 05, 2023 (5 months ago)
Srikanth

You question is not clear
Jul 06, 2023 (5 months ago)
KishanReddy

how to exporting Otel Collector Metrics to Prometheus Server