Blank Screen Issue on Signoz Service Page
TLDR Borislav reported a blank screen error on the Signoz service page. Dan confirmed the same issue. Borislav managed to fix it by reinstalling the signoz helm chart and deleting all data.
Powered by Struct AI
Sep 21, 2023 (2 months ago)
Borislav

Is anyone else getting a white/blank screen when going to the services page for a specific service? The UI is basically unusable because of this error: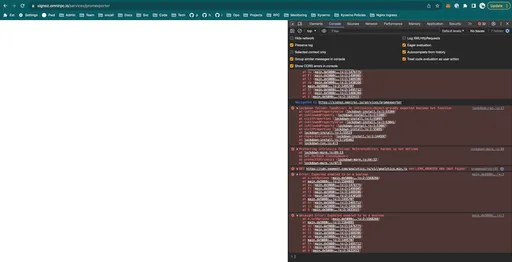 Sep 22, 2023 (2 months ago)
Prashant

Borislav can you share the signoz version in which you are facing this?
Borislav

the latest version v0.29.3. I have tried all versions since 27
Prashant

Yunus can you please look into this?
Sep 23, 2023 (2 months ago)
Yunus

Borislav: Can you please share more details regarding the issue ?

I am unable to reproduce the issue with my setup.
Borislav

hi what details would you like me to share? Would a viewer user in our signoz app help? I can send it to your email
Sep 26, 2023 (2 months ago)
Dan

Our team is seeing this same issue. Clicking on services generates an UI exception and white screen.
08:41
The same exception, Error: Expected enabled to be a boolean.
Borislav

I managed to fix it by completely reinstalling the signoz helm chart and making sure PVCs and all the data is deleted first. However there should be a better solution than this. Palash maybe you can check with Dan's application to see if you can solve the error. Good Luck!