Troubleshooting SigNoz Log Forwarding
TLDR Saroch attempted to forward a log file to SigNoz with no success. Prashant suggests using telemetrygen for sending test telemetry data. Still unresolved.
Powered by Struct AI
Aug 03, 2023 (1 month ago)
Saroch

I try to foward log file to signoz but it hot any data to in dashboard.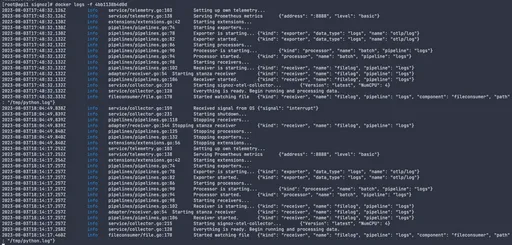 Prashant

By default logs from docker containers should be collected by SigNoz Docker Standalone installation.
Aug 04, 2023 (1 month ago)
Saroch


SigNoz Community
Built with ClickHouse as datastore, SigNoz is an open-source APM to help you find issues in your deployed applications & solve them quickly | Knowledge Base powered by Struct.AI
Indexed 825 threads (61% resolved)
Join Our Community
Manage subscription