Trace Data Dashboards with Sparse Data
TLDR Spencer is dealing with sparse data in trace data dashboards. Jason agrees on a feature to handle such cases. Srikanth suggests filing an issue on GitHub.
Powered by Struct AI
Jul 31, 2023 (2 months ago)
Spencer

I have a very low-throughput service. I'm trying to make dashboards for it using Trace data as my source. Because data is so sparse, most timestamps have no data.

As a result, the ending X-axis value for different graphs is different. In the attached image, notice that the last X tick is 9:00 for the top panel, and 11:00 for the bottom one.

Is there a way to fill in a value for time ticks with no data, like zero?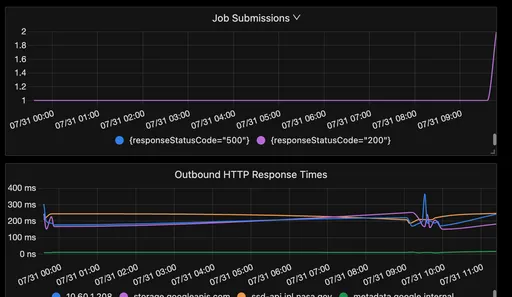 Jason

a way specify that the two graphs should use the same range for the horizontal axis....no idea but I would definitely see that a useful feature
Aug 01, 2023 (1 month ago)
Srikanth


SigNoz Community
Built with ClickHouse as datastore, SigNoz is an open-source APM to help you find issues in your deployed applications & solve them quickly | Knowledge Base powered by Struct.AI
Indexed 825 threads (61% resolved)
Join Our Community
Manage subscription