Error in AWS ECS Fargate-hosted Query Service
TLDR Kshitij reports an error from query service logs, hosted on AWS ECS Fargate. Srikanth asks about the ClickHouse environment specifications.
Powered by Struct AI
Mar 15, 2023 (6 months ago)
Kshitij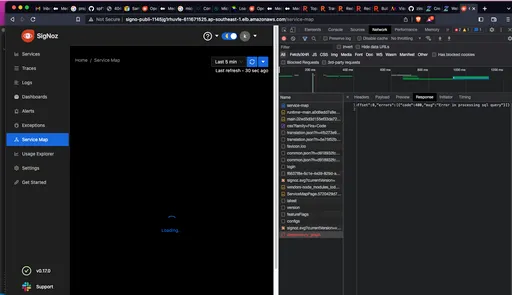 08:50
logs from the query service

Srikanth

Can you describe the environment which is throwing this error?
Mar 17, 2023 (6 months ago)
Kshitij

I am currently hosting all the services on aws ecs fargate and my own clickhouse cluster, I am using the version 0.17 docker images
06:01
This is monitoring a gin app which talk to a sqlite database
Srikanth

What's the env ClickHouse is running, OS, version, CPU arch tech, ClickHouse version.

SigNoz Community
Built with ClickHouse as datastore, SigNoz is an open-source APM to help you find issues in your deployed applications & solve them quickly | Knowledge Base powered by Struct.AI
Indexed 825 threads (61% resolved)
Join Our Community
Manage subscription